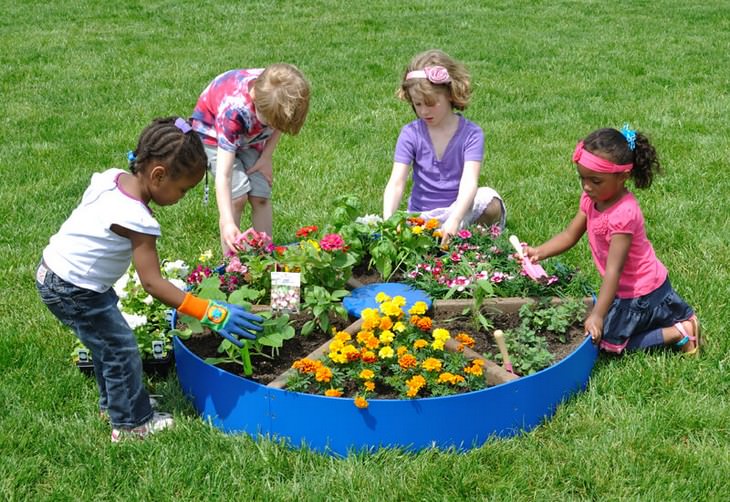 Gardening comes with a dedicated job. And when kids are indulged that might get boring with time if it doesn't have fun and mess. So, here are some gardening activities for kids to be involved in while keeping their interest intact merged with teaching and games.
Fast Growing Seeds For Classroom
Kids should not only know where the veggies, fruits, flowers, and herbs come from, but also learn how to grow their own food. But, children lack patience, and that's where you're challenged. Here's an affable list of some easy and fast-growing seeds for the classroom and in your backyard to get the kids started with.
VEGETABLES
Lettuce– Can be planted on a counter/desk. Requires partial sunlight. Blooms in 3-4 weeks.
Turnips and Radishes: Require lesser work and a bit more sunlight than lettuce. Grows within 60 days after sprouting.
Cherry Tomatoes: Require more work, trellising, and attending to pests and diseases. Ready to be harvested in 7-12 weeks.
Beans: Among the two varieties, bush beans mature faster in about 50 days of planting from seed.
Peas: Easy to grow in a Ziploc bag/pot/garden. Get ready to pick and eat in about 2 months when planted during mildly cold weather.
FRUITS
Strawberries and Blackberries: strawberries can maturely grow in a container & spread year after year, and blueberries can grow both in a pot & on bushes in your backyard garden under full sun.
Raspberries: Easiest and fastest growing fruit in the garden that prosper well in colder months and well-drained soil.
Banana: Require about 9 months to reach maturity. Plant stalks indoors when it's cold and outside when it's warm weather.
Passion Fruit: Come from the passion-flower vines. May take up to a year and a half to reach its matured growth. Thrive well under colder climates.
FLOWERS
Marigold: A popular edible annual flower. Requires full sun and well-drained soil to bloom in a couple of months.
Sunflower: Grows about 6-14 inches tall within 6-8 weeks when planted in a sunny spot.
Zinnia: Germinates within 7-10 days in bold hues of red, yellow, orange, pink, and peach when planted in well-drained soil.
Wild Pansy: Or Johnny Jumps Up requires minimal care and partial sunlight for bushier growth. Plant around the tree base, flower beds, pots, or just box them with other flowers.
Some Fast Growing Herbs
With the right watering and a few hours of indirect sunlight, herbs like Basil, Chives, Thyme, Cilantro, Parsley, and Mint grow in abundance. Rich in iron, vitamins, and healthy antioxidants, benefit from the amazing attributes the herbs possess. Either garnish a meal or make a cup of organic tea or just add greenery to the surroundings, herbs also keep the health and sensory abilities of children in check.
Easy Gardening Ideas
Ready to teach your kids about growing plants from seed? Maybe these easy gardening ideas help you to encourage kids to get hands-on creative gardening skills.
With popsicles, glue, and colors, let the little ones make cute little signboards to distinguish and learn the names of plants.
Help them build a magical mini fairy garden in a tub, cup, or old pot using rocks, twigs, spoons, dried leaves, and pretty much anything!
Make an herbal garden from broken egg shells & cartons, old big pots, etc.
Help them make creative DIY bird feeders & baths and DIY decorative pieces using unused stuff and teach your kids about the sanctity of recycling.
Mix the routine job of gardening with fun games and activities, like a flower rescuer, directional columns on the ground to their planter, etc.
Final Thoughts on Indulging Gardening Activities For Kids
Indulging kids in gardening activities is a wonderful way of letting them close to nature and improving their overall health and senses. Make this a competitive and project thing for kids and watch them learn and happily grow with the plants they have hands in growing.